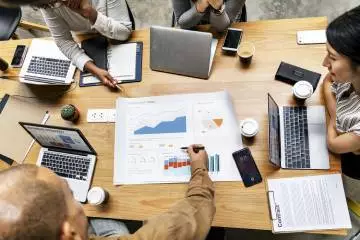 In a digital world with so many websites, apps and spaces to engage with, there is always one common denominator. Our email address is the digital passport that underpins them all. It's that unique key connecting us to the many personal profiles we've made across the web.

Every digital project our clients endeavor to create—be it an app, mobile site, automation solution or a responsive website design—has one thing in common. The user. Every question, every action, every line of code is about creating a better brand experience for the user. And, that's what we do.

Our team of designers, developers and programmers is here for you to get your project turned around as quickly as you need. And by here we mean actually in our office (and in our time zone too, of course), ready to tackle any PHP, CSS, ASPX, HTML, HTML5, Drupal, Joomla, Squarespace or JavaScript, Perl or C (sharp or objective) challenge that comes our way.

If you're serious about creating a seriously great user experience, take a look at our work or better yet, give us a call. We can tell you more about how we'll help you bring your digital vision to life. On time and on budget.
Reaching out
As more of their world revolves around your customer's inbox, the ability for marketers to reach out is a powerful privilege that continues to grow in significance. More than ever, a customer who gives your company permission to contact them so directly reveals a trust that marketers should nurture and reciprocate.
Positive connections
While traditionally email marketing has had the highest return on investment of all marketing channels, today it has evolved into the definitive means of building lasting, profitable and positive connection with your customers.

Advances in personalised messaging and behavioural targeting make email an increasingly personal tool; whether it's a promotion pushing your customer's favourite products, a regular newsletter or crafty survey to better understand your subscribers, Tech ICS can help you every step of the way.

Ultimately you'll identify your most engaged customers, target and reward them appropriately, and make your communication with them a truly positive reflection of your brand and business.
Right tools for the job
We understand you'll build a personal relationship with your customers and that's why it's important we give you and your team the toolkit to manage your own email marketing. By working closely together we can help you redefine the way your customers interact with and buy from your business. So contact us today and talk to one of our consultants about how we can transform your inbox marketing.
Contacting our team
Give our team a call on 0207 237 3388, or leave your details by clicking here and we'll be in touch to discuss how we can help you.