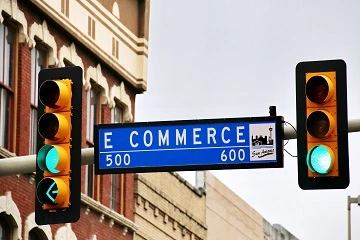 Tech ICS are award-winning designers of E-Commerce websites, with a wealth of digital marketing experience to fully optimise your E-Commerce platform. We design and build beautiful responsive websites. We ensure they are engaging, interactive, and use the latest technologies to provide the best user-experience. We are a dedicated, passionate, and multi-disciplinary team of Digital Specialists who are proud to deliver outstanding work for our amazing clients.

Recent reports suggest that 98% of all UK shoppers have made a purchase online, with 65% of these having made an online purchase within the last month. With increased competition from internet-based retailers, you need to make your website stand out from the crowd. Tech ICS's expert team of designers, developers and digital marketers will make this a reality.
Understanding your business
We start every E-Commerce web design project by getting to know you and your business. By understanding your products, and the audience you are aiming to attract, we can ensure your website and surrounding digital marketing efforts are up to the challenge.

We offer a range of solutions and will recommend a tailored approach for every brand. We partner with everyone from small independents to international brands and multinational corporations, delivering scalable digital marketing plans.

Our digital strategists and account managers provide clear and tailored advice on what works online and how best to optimise sales and bookings for every brand that we work with. We are also able to integrate your new website with other systems you may use, to provide a seamless experience for your customers and a simpler process for your staff.
Selecting an eCommerce platform
We have a range of E-Commerce platforms for you to choose from, and our consultants will help you choose the right one for your business and that best fits your budget.
eCommerce expertise
Tech ICS have all the right people to advise on every element of your E-Commerce website, including online merchandising, the customer journey and conversion rate optimisation. Once launched, our specialist digital marketing consultants will work with you to ensure your new website is seen by as many of your target audience as possible. Whether you need assistance with one area, such as PPC or SEO, or would like us to create a full, integrated strategy, we have the right people for the job.
Strategy
Our philosophy is that if you're standing still, you're moving backwards. To really make a website work, a clever and clear strategy is necessary. Our most successful clients are those with whom we have built close relationships and we work hard to bring them the best ideas that keep them moving forward.
Regular meetings on a monthly or quarterly basis.

Site audits.

Upgrade recommendations.

Free APP usage suggestions.

eMarketing advise.

Content-specific advice.

Digital Analysis of Competitors.
Contacting our team
Give our team a call on 0207 237 3388, or leave your details by clicking here and we'll be in touch to discuss how we can help you.