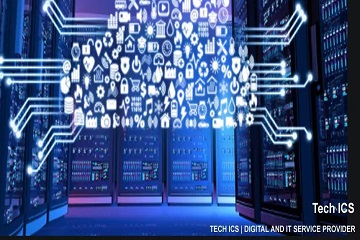 Using cloud services for your data storage to applications to managing your team through the use of integrated systems, cloud servers supports your business growth. Cloud allows you to scale your business and allows you to spend more time on customer delivery & service/product deliveries.
As we go through the change, especially through this pandemic, businesses are turning to cloud services and looking to ways to ensure teams can continue to work effectively without being impacted.
The global pandemic is unusual in today's market and no one had really understood this impact it would have on the business environment, cloud services are not new, it has been around but had been neglected due to costs.
We at Tech ICS bring our cloud services in a cost-effective method, supporting your business as well as its growth. It allows you to manage your business including the teams and allows you to run an effective business operation. We understand that business change can be challenging and bringing your team either who are technical or not, is also challenging.
We are here to help, support, advice and put you in the right direction, without the worry of thinking in terms of technology, of what is best or not. You should continue doing what you are good at, your business and let us focus & strategies your technology.
Our capabilities and service deliveries
The following will explain what we at Tech ICS can offer your business and some of the key areas of support we are able to deliver:
Cloud services and change management
Moving to cloud services can be seen as a daunting prospect or process, however, we would map out the process of completing that migration without impacting your business or its operation. We want to make sure that your return of investment is a key element to your journey on the cloud services and will advise you throughout the process.
Managing your cloud services
The governance of your cloud services is carefully managed by Tech ICS. We do pro-active checks and ensure the services are available to your business at all times. We look at automated services and run monitoring services.
Cloud security
As we push our systems including our data into the cloud services, we need to make sure our data is secure. Over 70% of us are using online interactive systems, so cloud security is vital. Whilst cloud services bring around efficiency, elasticity and innovation of the cloud, we at Tech ICS take cloud security very seriously. We have strategic and robust policies to ensure your data is secured when using our cloud services. Our compliance with cloud security ensures your data, whether that may be files, videos, customer data are secured and only available to permitted users.
Cloud platforms
We have a number of web-based apps running on our cloud servers. This allows us to ensure that both our access to data and services are available, no matter where you are. Storing software locally can bring about a number of issues and the flexibility of having your cloud platform in a server, which can be accessed by permitted users, allows businesses to have the flexibility that they did not have in the past.
Tech ICS have almost all of our platforms in the cloud and our Hybrid cloud software, which is a business management tool with a full integration system, allows your business the flexibility to use a comprehensive system. Please see our products page for more details. Further to this, as technology is moving quickly, we need to make sure that we keep up to those and updating our cloud services platform is easier as we are able to complete the update without the end-users knowing any drastic changes. Downtimes on cloud platforms are less and do not impact your business process.
Artificial intelligence & cloud services
Artificial intelligence (AI) is critical to our business as well as our applications. We need to be ready, set and scale our cloud services without impacting our business. When scaling on the AI successfully, you will need to draw your business value, translate this into your business strategy and focus your plan into those in AI. This will then allow AI to deliver your business strategy if done correctly.
AI idea is to support automation, less human intervention and allow a process of managing a customer's journey. You will then be able to use cloud services in conjunction with AI to improve your customer delivery service, whether your selling a product or service.
For example, if you are a retailer, you want to understand your customer's journey, their buying process, recommend what they like and recommend a product to increase your sales. That is what both AI and cloud services can do because by using cloud services, you can scale your business.
Whilst AI is important, we need to understand how we can manage this through intelligent thinking. The intelligence tools such as analytics tools enable you to analyse data traffic to your business and then build automated tools to deliver customer delivery service.
It is important to note that AI and cloud services can fully work with our intelligence services, as we are able to store, analyse and create algorithms on the data to create automation and improve customer delivery services.
Speaking to one of our specialist Cloud consultant
Through our experience and industry knowledge, we have built a strong Client model, and deliver services similar to what you would expect from the giants of the industries, at costs that we find is reasonable for you as a business.
We know how to deliver mission-critical, core business solutions in the Cloud. After assessing your goals, we'll work with you to define the right cloud solution for your business needs and deliver it at speed.
You can email us details of your requirements or if you would like more information about our cloud services, please feel to contact us on 0207 237 3388 or email us on info@techics.com.