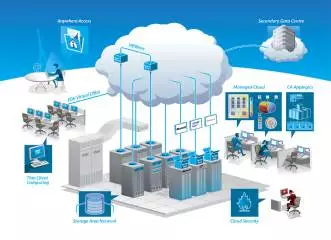 In this section of our site, you will find further information surrounding the additional services offered by Tech ICS.
Website & email hosting
Hosting your website and email service is a very important element of your business, firstly without a hosting provider your clients cannot begin to find your business, you need a hosting provider that can serve your website and email to the world 24 hours a day, quickly and effectively. Your hosting should include telephone and email support based in the UK without irritating call centres and unskilled help desk staff. Above all, you need a hosting provider that has your business needs totally handled taking the stress away from you.

Our hosting packages are built to suit you. From home-based businesses right through to larger enterprises. Trust us with your website and email service, you can be sure that your in safe hands. Using the latest technology in both servers and network services we provide some of the fastest hosting around, we can offer many different platforms, applications and services. We partner with the world's most reliable and successful data centres and service providers this ensures we are able to offer the most advanced and cost-effective solution. Our hosting packages can be tailored to suit your exact requirement.

Our hosting plans are designed to fit your needs—full-featured, affordable pricing, secure servers, 24/7 customer support, free tools, and more. Select a Windows® or Linux package, customise features or host multiple sites within a single plan. Leave the server management to us so you can focus on your business.

Web hosting is available as shared hosting, VPS (Virtual Private Server) or dedicated server hosting. All hosting includes IMAP/POP3/Webmail based email services as standard, additionally, we offer Microsoft Exchange Services which can also include Outlook 2013, this provides your business with world-class email at an affordable price, giving you access to your email from any device anywhere in the world.
Server support & maintenance
Many enterprises have a dedicated server located within their place of work, this server normally provides a number of critical services including email services, data storage, accounting software, backup services and authentication services. In many cases, these servers are not regularly maintained and monitored. A sudden loss of service or data is the first sign that something has gone wrong. Call out charges and system recovery can be expensive, loss of data can bring a business to its knees furthermore productivity and profitability can be severely affected.

Tech ICS offer a range of support services for enterprises including proactive server support and maintenance, using both on-site engineers and secure remote access our team can monitor your server and ensure everything is running well and your data is safe and secure. As software updates and patches are released our team will deploy these to your server and ensure they are applied correctly, we also ensure that storage space and backups are maintained correctly.

Our server support service is available as part of a fixed monthly support contract, one payment each month provides unlimited server support for your business during office hours with an additional option for out of hours support and 24/7 proactive monitoring.

Tech ICS offer server support for servers running both Microsoft and Linux server systems.
VoIP services
We also offer a fully managed telephony service to install into new premises or to replace or enhance their existing system. Our Hosted VoIP solution is a cost-effective, fully managed business voice solution, available anywhere in the UK, offering a flexible, scalable and cost-effective alternative to traditional telephony.

Effectively, our Hosted VoIP solution provides a switchboard capability to our customers, which is actually managed from our telephone exchange, meaning that you avoid all the day-to-day hassle and costs of managing the phone system yourself. This advanced telephone service is hosted and managed using our infrastructure in the UK and is delivered and supported over our state-of-the-art network.

It's also easy to move your BT numbers to us seamlessly. In addition to this, we bring a range of additional services which allows you to take advantage of modern telecommunications systems. From intelligent call routing to highly intelligent voicemail systems to FSA compliant call recording, we can offer you the solution which best fits your telecommunications needs.
Contacting our team
Give our team a call on 0207 237 3388, or leave your details by clicking here and we'll be in touch to discuss how we can help you. You can also raise a support ticket on our online interactive system, please click here: https://support.techics.com.